*indicates a new Unit Overview Plan (UOP) that has been added since June 2020.
Check back here often as we gather, update and share relevant resources and background information on best practices in online learning.  
Best Practices: 
Here are some things to consider when designing online content for your students: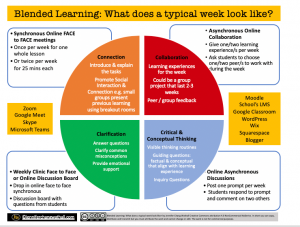 ​Blended Learning Unit Planner:
Based on Dr. Jennifer Chang Wathall's model of blended learning, this planner helps us structure our lessons while being mindful of synchronous (at the same time or as a whole group) and asynchronous (at different times or on your own) learning opportunities. Well-designed online  learning plans have a good balance of both and can be easily adapted to both fully online and some online and some in-person (Referred to as blended) learning.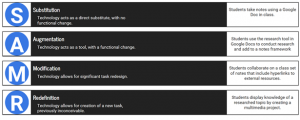 The SAMR Model pushes teachers to consider how we use technology in our teaching and how we can best use it to for new and innovative online learning. Check out the more resources section for some links to more SAMR resources. 
Resources to assist with planning
Online Learning Resources & Further reading
Other Resources
Articles on best practice in online learning
Overview
Stage One - Desired Results
Stage Two - Planning for Assessment